The SU Executive Committee is made up of seven voluntary positions (6 Officers & Vice-President) and is chaired by the Sports Union President, a full-time salaried sabbatical position at the University. In addition, three members of the SU staff team sit on the Committee.
The SU Executive Committee is responsible for assisting with the management of the Sports Union's affairs, including:
reviewing the SU finances in line with the projected budget
considering matters of strategy and policy
shortlisting Sports Ball and Blues & Volunteers Awards
recommending disciplinary matters to the Club Forum
ratifying WattMark Awards
recommending new clubs to the Club Forum for constituted club status
leading teams of Ambassadors throughout the year and especially during Freshers' Week
The Executive Committee meets approximately three times each semester, and additionally if there are urgent matters to discuss.
---
Sports Union President
The Sports Union President works full-time alongside the staff team and is the figurehead for the SU, positively representing us across and beyond the University. They also manage the SU Executive Committee, lead our volunteers and oversee the journey from prospective students right through to alumni. It is a very busy but rewarding role and a huge step on the career ladder.
---
Vice-President
If you're comfortable in the spotlight and can enthuse everyone around you with your leadership style, VP is the role for you!
coordinate all SU volunteers to deliver big events including Freshers' week
make the big speech at the annual Sports Ball
deputise for the SU President where required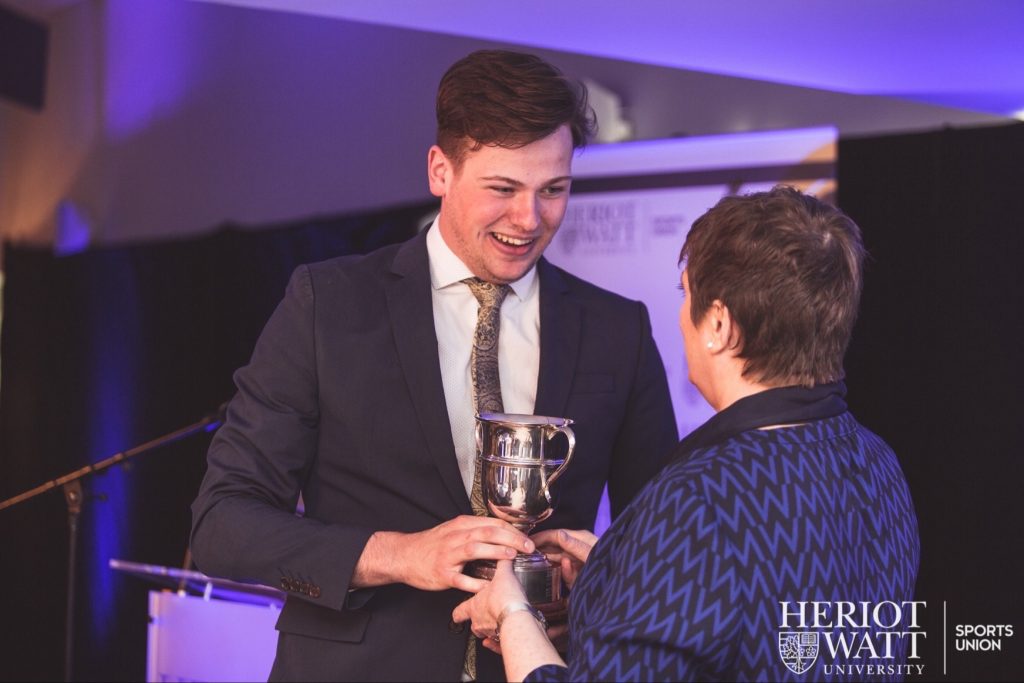 "Volunteering with the Sports Union has given me the opportunity to develop many of the skills and experiences that I often discuss in job interviews; it has definitely paid off so far!"

Alistair McDermid, SU VP 18/19
---
SU Executive Officer Remits
Each Executive Officer has their own remit for the year and is supported by a number of Lead Ambassadors. At present these remits are as follows:
Alumni Officer
One of the newest roles within the SU Executive, this is an exciting opportunity to make your mark on our alumni engagement programme.
Support Club Alumni Officers to improve alumni engagement.
Centrally coordinate SU engagement and communication with SU Alumni.
Support clubs and Alumni staff to improve alumni engagement events.
Charities Officer
This remit is perfect for someone with excellent organisation and relationship-building skills.
lead on the SU's annual Strictly fundraising event in Semester 1
support clubs to deliver their own fundraising activities
coordinate the Movember campaign
Inclusion & Sustainability
In this role, we're looking for someone who is as passionate about equality and diversity as we are and who will support us to develop our work in these key areas.
work closely with the Student Union to promote Inclusion & Sustainability
lead our Women in Sport & Black History Month campaigns
Work alongside the University on sustainability projects
partner with the wider student sport network on equality initiatives such as the Rainbow Laces campaign
Health & Wellbeing Officer
This role needs someone who is keen to promote various health and wellbeing initiatives and help ensure fellow students know where to turn.
lead on Mental Health Week
support the SU's Movember campaign in highlighting men's health issues
main contact for the NUS Healthy Body, Healthy Mind Award
Participation Officer
If you have what it takes to motivate others to get involved, this remit is for you.
work with the staff team on getting the inactive to become active
supporting clubs to deliver activity that attracts potential new members
leading on non-club specific recreational activity
Promotion & Marketing Officer
This is a busy and exciting role throughout the year and ideal for fans of social media!
support the SU Staff Team with engagement of the wider SU and University community.
promoting the SU through social media, with a focus on managing our Instagram
design work using the SU brand
---
Why join the SU Executive Committee?
Members of the Sports Union Executive get real hands-on experience of running the business of the Sports Union and play a key decision-making role in shaping the direction of our organisation. Each individual remit also provides the opportunity to really own that area and drive it forward. And it promises plenty of future job interview material!
If you want to go for Sports Union President one day, you'll need to have first served on the SU Executive Committee. It could be a critical stepping stone to one of the most exciting secondments out there.
How do I get involved?
The positions of Sports Union President, VP and Executive Officer are all elected by Sports Union Members in March each year, following a short period of campaigning around campus (or online!).
Anyone who has been on a Club Committee or served as an SU Ambassador, for at least one academic year, can stand for election to the role of SU Executive Officer. This also applies to the VP position. Once elected to an Executive Officer position, remits are then decided based on personal preference and suitability. While remits cannot be guaranteed, the SU President will endeavour to place each person in their preferred role.
If you want to go for the role of SU President, you must have served one year on the SU Executive. Only in rare circumstances would someone who has not been on the SU Executive be able to stand for President.
When open, nominations can be submitted via the buttons at top of this page. The timeline for voting week and results night in March is in the Events Calendar.
Please check the SU Election Policy before submitting your nomination. If you are unsure if you are eligible, or have any other questions, please contact us and we'll be happy to help.