Now the feet are on the mend and our atheltes have had time to recover, we are reflecting on our first ever Half Marathon which was completed on Friday 2nd April!
After 12 weeks of training from the big launch in January, the Easter weekend was kicked off with the big run which was a huge success! 30 participants including HWU staff, students, alumni, and others from other institutions participated with some amazing times.
We were lucky to have some HWU's finest staff and students take part including Deputy Principal (Learning and Teaching), Professor John Sawkins and the Sports Unions Former Vice-President Alistair McDermid. See below to read their thoughts on the experience.
---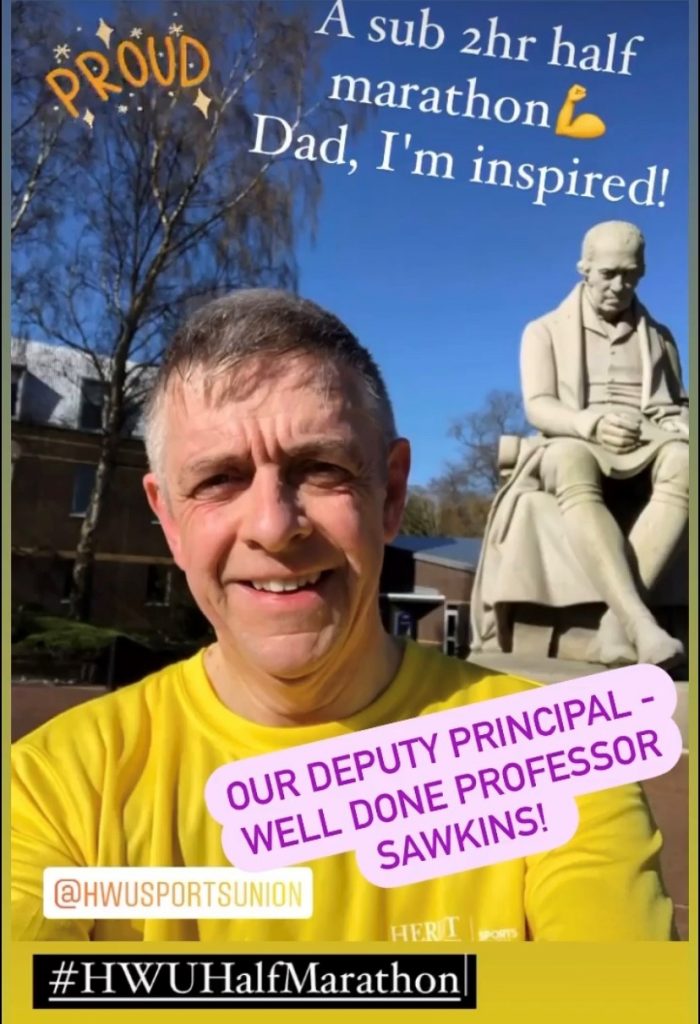 Training for the HWU Half Marathon proved to be challenging but really enjoyable. The programme itself was clear, easy to follow and enabled me to track progress. It gave me the motivation I needed to put on my running shoes and get out of the house, even when the snow was falling!  It was my first ever half marathon. I'm sure it won't be my last!

– Professor John Sawkins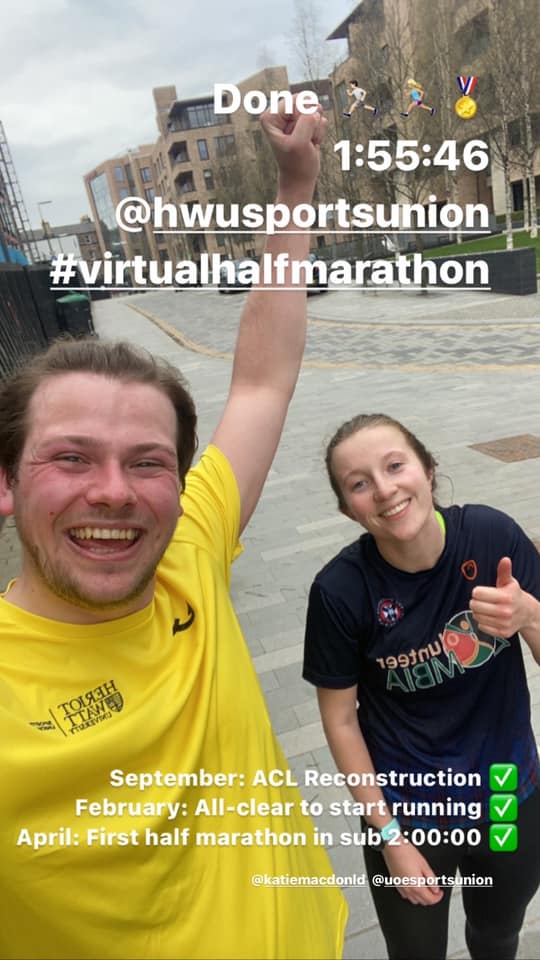 "After 2 years out of sport due to an ACL injury, it was lockdown that made me realise how much I'd taken running for granted. When I finally got the all-clear to start running again in February, I didn't think I'd be running a half-marathon only 2 months later, but having that challenge in my mind gave me something to work towards, without overexerting myself. I was extremely proud of myself for going from effectively learning how to walk again to completing the HWU Half Marathon, and couldn't recommend it enough. I absolutely loved taking part – it was my personal first and it definitely won't be my last. In fact, I've already pencilled in my next!"

– Alistair McDermid
---
It is great to hear from those who got through the challenge and how it won't be their last – Watt a great achivement to end the semester with!
If you have an idea of a challenge the Sports Union should do, like this or something different – get in touch!
---
HWU Half Marathon Gallery